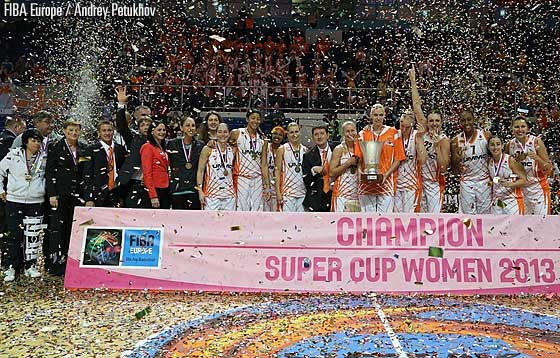 A total team effort allowed UMMC Ekaterinburg to lift the Super Cup championship trophy after defeating Dynamo Moscow 72-63. UMMC led by top scorer Deanna Nolan with 15 points and Candace Parker's overall effort especially on the defense end by capturing 7 rebounds and 2 steals to go along with 8 total points. Dynamo Moscow played a physical game however the offensive effort by UMMC was too much during the final stages of the game. After a 15-2 run after the half time break, it allowed a little cushion for UMMC but Dynamo did not back down. Kristi Toliver, lead all scorers with 21 game points and chipped in 4 assist for Dynamo but her effort was not enough to over power UMMC.
Quotes:
Dynamo Moscow Head Coach Vladimir Shtam:
"Because of the different types of defense we had a chance to score. I'm glad that the players played hard, but tonight the stronger team won."

UMMC Head Coach Olaf Lange:
"We faced a very inspired Dynamo team that played very hard physically. Dynamo played this game like a team that has nothing to lose. Looking at our roster, we have players who just arrived and still need time to adapt here. I'm very happy that we won the SuperCup Women."
Notes: Two key players for Dynamo Moscow did not play: Lindsey Whalen and Tina Charles.
Box Score