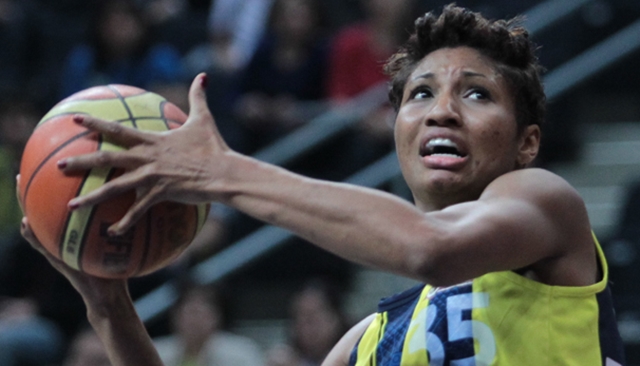 Fenerbahce and ZVVZ USK Prague remained undefeated in the ongoing EuroLeague Women 2014, blowing out their respective opponents on Wednesday night.
Fenerbahce leaned on a strong second-quarter performance to run away with a clinical 84-60 victory over Rivas Ecopolis in Istanbul, Turkey.
After leading by just two points after the first period, Fenerbahce shifted to next gear in the second period, outscoring Rivas Ecopolis, 30-13, to take a commanding 19-point lead at the half — a lead that they never relinquished en route to the win.
Agnieszka Bibrzycka spearheaded the offensive attack of the Turkish powerhouse with 18 points on 6-for-9 shooting from the field, while Angel McCoughtry and Isabelle Yacoubou added 15 and 10 points, respectively.
"We were very focused from the beginning. We played well. We improved our defense. Thanks to our fans. They created a wonderful atmosphere," said Fenerbahce coach Roberto Iniguez after the game.
Meanwhile, ZVVZ USK Prague also scored their fifth win in as many games as they cruised to a dominating 93-62 win over Kibirkstis-VICI Vilnius in Prague.
Eva Viteckova and Kia Vaughn were simply dominant on both ends of the floor for Prague. Viteckova finished with 21 points on 8-for-10 shooting from the field, including an impressive 4-for-5 clip from beyond the arc, while Vaughn racked up 18 points and 15 rebounds for Prague.
"Looking at the result it seems like it was an easy game. But this team won two games in EuroLeague. So we were full of respect before this game. We worked hard. And I can say that we played nice basketball today," said ZVVZ USK Prague coach Natalia Hejkova when asked about her team's performance against Vilnius.
EuroLeague Women 2014 Results (December 11, 2013)
UE Sopron 61- 54 Lattes Montpellier
Sparta&K MR Vidnoje 67 – 56 Perfumerias Avenida
ZVVZ USK Prague 93 – 62 Kibirkstis-VICI Vilnius
Wisla Can-Pack 52 – 60 Nadezhda Orenburg
Fenerbahce 84 – 60 Rivas Ecopolis
Galatasaray Odeabank 62 – 49 CCC Polkowice