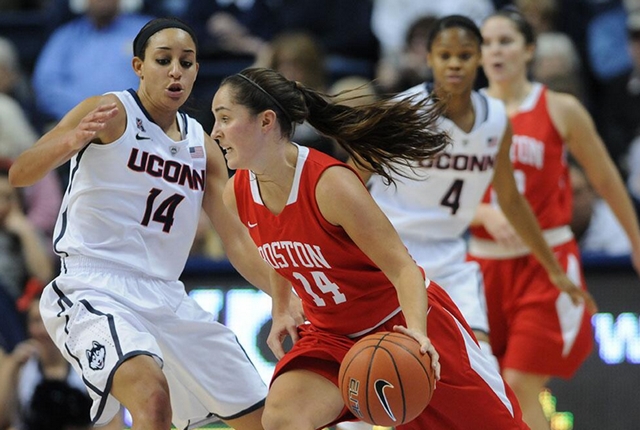 The Connecticut Huskies remains unchallenged on top of The Associated Press NCAA Women's Basketball Rankings after staying undefeated in eight games.
The Huskies (8-0) got all 36 possible first-place votes to remain atop the Top 25 Rankings. The defending national champions easily swept their three-game assignment last week, defeating the Oregon Ducks (114-68) on Wednesday, the Boston University Bonnies (96-38) on Friday, and the Monmouth Hawks (100-46) on Saturday.
The top-ranked Huskies will have a light week ahead of them with two scheduled games. They scored an 88-39 drubbing of Saint Bonaventure on Monday and they will take on Ohio State on Sunday.
Head coach Geno Auriemma, whose team is missing the services of star Kaleena Mosqueda-Lewis, credited his team's defense for their success in their first eight games this year.
"I don't think there's been one game where we haven't played well defensively," Auriemma said in an interview after their game on Monday. "From that standpoint, I've been thrilled with how we've played defensively."
Mosqueda-Lewis is expected to be sidelined in the next three to five weeks after due to the nerve contusion in her right elbow that he sustained in their 76-57 win over the Stanford Cardinals on November 11th.
Meanwhile, the second to ninth-ranked teams remains unchanged with the Duke Blue Devils taking the second spot, followed by Tennessee, Louisville, Notre Dame, Stanford, Kentucky, Maryland, and Baylor. The Nebraska Cornhuskers completes the Top 10 this week.
2014 The Associated Press Women's Basketball Top 25 Rankings (Week 4)
Connecticut
Duke
Tennessee
Louisville
Notre Dame
Stanford
Kentucky
Maryland
Baylor
Nebraska
North Carolina
Texas A&M
Penn State
Colorado
LSU
Purdue
South Carolina
Oklahoma
Oklahoma State
California
Michigan State
Georgia
Iowa State
Gonzaga
DePaul