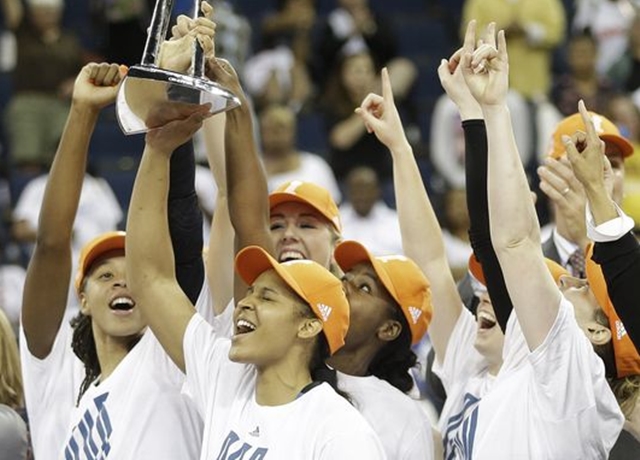 The Minnesota Lynx bagged their second title in the last three seasons after completing a clean sweep of the Atlanta Dream in the 2013 WNBA Finals.
The Lynx leaned on another strong start to control the tempo of the match en route to an impressive 86-77 win over the Dream in game three of their finals series on Thursday night in Duluth, Georgia.
Coming from two blowout wins at home in the first two games of the series, the Lynx made sure that the crowd will not be a factor in the match as they quickly silenced the crowd by taking a 25-17 lead after the first period.
The Dream played with a lot of sense of urgency in the second period to trim the lead down to three points, but the Lynx took control once again in the third period and they never looked back, reclaiming the title they lost to the Indiana Fever last season.
"That's what a championship is supposed to be," said Lynx superstar guard Maya Moore. "It's supposed to be hard, and when it got hard, we came together and stuck with it and secured that victory. I'm just really proud."
Moore led the offensive attack of the Lynx with 23 points, while Rebekkah Brunson posted a double-double with 15 points and 12 rebounds. Lindsay Whalen also added 15 points and six assists, while Seimone Augustus added 14 and 10 points, respectively.
Moore was named as the Finals MVP, but the former Connecticut standout refused to take all the credit, citing the help of people around him for her success.
"I have so many people around me that I appreciate and who have helped me so much from middle school to high school," Moore said. "I'm sure there's some Connecticut faithful here, too, but when you think about all the things you want your team to be — we don't just talk about it. We do it."